Quilt blocks that express sentiments or remembrances do double duty.  They are warm, snuggly pieces of bedding.  They can provide a special link to the maker of the quilt.  They are great additions to the décor of a room.
But, the ones that specifically refer to events, people or stages in our lives become a unique connection to those parts of our history, present and future.  Each of my daughters has a quilt made by members of a service organization they were involved in.  Those quilts are very well loved and the girls have spent hours and hours over the years revisiting the individual blocks and their messages.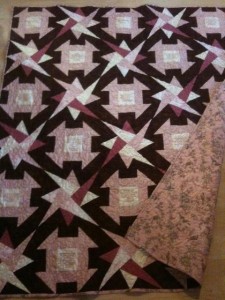 The last such quilt I made was for a very good friend of mine who was expecting her first granddaughter.  I wanted to make sure that she fully experienced the "grandma-ness" of the situation, so I created a quilt to do just that.
It could have been the normal baby quilt, filled with ducks and bunnies, or baby dolls and flowers.  But, since this baby would reside on the other side of the country, I wanted to provide a constant reminder of the very wonderful relationship between grandchildren and grandparents.
That was the motivation and inspiration behind the Grandma Quilt.  I loved the way it turned out and I loved that I could offer it to others.
Coming soon!