Following a quilt pattern is so much easier if I have enough room to sew and have all of my needs organized and handy. It seems that no matter how well I have planned, during the construction of my quilt pattern, I find that something is not as conveniently placed as I would like.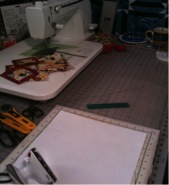 Space seems to always be an issue.  Very few people really have enough to stretch out their sewing.  Cutting tables and ironing surfaces and large enough sewing tables for a good sized quilt top all take up much more space than I usually have available to me.  But, when these items are spread out too much, I waste time and energy on moving from one station to another.
Part of these issues were solved with I purchased a very large cutting mat (58 x 32 inches).  I placed it on my sewing table and then put my sewing machine on top of that.  This way, I can cut whatever I need to cut in front of or to either side of my machine without having to move fabric back and forth to the cutting table.  When I need more space on the cutting board, I am able to move my machine aside.
If I put a June Taylor large ironing/cutting board next to me with a small iron, I have cutting, sewing and ironing all handy. For large seams I still grab the whole top and go to the ironing board but for anything less than sewing the final strips together, this set up more than serves my needs.
Click here to Join Us in the Online Quilting Classes Community!
Karen Dennison
Learn, Grow and Share – And most of all – Create!