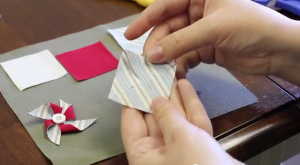 Let us go back to the beginning. What is the intended purpose of your stunning new creation?
I am going to make a baby quilt for a friend's new grandbaby and I want to make a companion Grandma lap quilt for her.
I want the quilt for the baby boy to have a feel generally in keeping with the nursery theme that new mother choose to register for. It is wonderful that we all get to spy on the tastes and preferences by secretly checking out registries. I do that for wedding gifts and baby gifts that I make.
However, I don't think that my friend, the new grandma, wants blue elephants. So, I will use some of the same fabrics in a different pattern to create a special remembrance just for her.
That means I need to choose quilt patterns that will work with roughly the same number of fabrics and that will be appropriate for a new baby and a new grandma. These don't have to be the same patterns. I just want them to be similar enough to be thought of as a special set.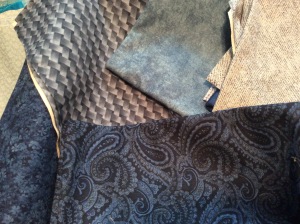 Blues and grays – zoo animals for the baby – soft geometrics for the adult
That is the start. Lets see how this progresses!