From – June 28, 2010 (The latest development is that Luella's is closing. If you don't support these small quilt shops, you lose them!!)
To start a quilting project you need a quilt pattern, some nice quilting fabric and the support necessary to complete your quilt. I find those things at my local quilt shop. This is Luella's Quilt Basket in Redondo Beach. I love Luella's and the "Basket Ladies".
I go to local quilt shops rather than the big box store for a number of reasons. First I belong to the Facebook Group: The 3/50 Project. If you haven't seen it you should. You can find it on Facebook or at
http://www.the350project.net
The philosophy is that we need to keep a certain amount of our spending local. You pick 3 local small businesses and spend $50 with each of them each month. It isn't hard to do and it makes a huge difference. Consistency is the key. I strongly believe in supporting our small business community because they are the ones that will lead us back to a strong economy. OK, enough soap box.
My second reason for shopping at small quilt shops is the personnel. I went into a JoAnn's to get piping for a project. They had just changed the store layout so; I asked the little teenaged salesgirl where it was. With a flick of hair over her shoulder and a sniff she replied, "Dude, we don't sell pipes here." If my local quilt shop sold piping that would not have been their response. They know what they are doing and if I have any questions they can find the answers.
The third reason I am a regular customer is the supporting "stuff"; the new gadgets, the new quilt patterns, the newly featured quilt designers. They know when and where all of the upcoming exhibits and happenings are going to be. It is a place to go for great info.
I have build friendships with not only those who work there but also with fellow customers. We have taken classes together; gone on retreats together and shared project successes and not so successes. The comradery and support is invaluable.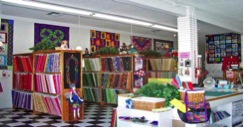 The last reason for shopping at my local quilt shop and other local shops when I travel is the quality of fabric and thread. I spend a great deal of time, effort and money on this art form. To use materials that are not of good quality is ridiculous. I am making pieces that I want to be handed down generationally, not come apart in the third washing. I can find materials that will stand the test of time at any of thousands of quilt shops around the country.
And if we are not supporting them, we will lose them and then where will I go to say, "Look at this quilt pattern I just designed and put together!!!" Certainly not to the little girl at JoAnn's.
Click here to Join Us in the Online Quilting Classes Community!
Karen Dennison
Learn, Grow, Share – And most of all – Create!