Manufacturers are not the only ones with the ability to produce photographic images on quilt blocks.  By using photo transfer fabric sheets, a personal picture can be printed onto a cotton quilt block.  Memory quilts, capturing important events, people or places are perfect for personally printed squares.  These blocks can be interspersed with other meaningful fabrics to increase the memorialization in the entire quilt.
Painting on fabric is another option.  Painting technologies improve constantly and the development of new and better tools and materials make fabric painting more and more durable and easier to accomplish.   The painting can be of images or can be made of written words.  Write names, titles or events.  Writing can be of every day script or fancy calligraphy.  Painting can be done with inks, acrylics or metallics.
Another way to personalize plain fabric quilt blocks is to embroider on it.  My first embroideries on quilt squares were done by hand.  Later quilt blocks were machine embroidered.  Adding embroideries that personalized a quilt meant for someone special is an easy, beautiful way of creating a one of a kind gift or memorial.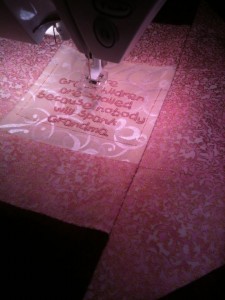 Images, embroideries or designs can be further embellished by including lace, ribbon, crystals, leather or whatever else can be sewn on to further impart the message being created in the quilt.