There is no better way to learn a skill than to jump right in and start practicing it. Sewing is no different.
Here are some of the steps, which you should be doing right now:
— Choosing designs
Everyone starts a quilt with thinking about the purpose. Is it for a baby shower, a wedding gift, a child's bed?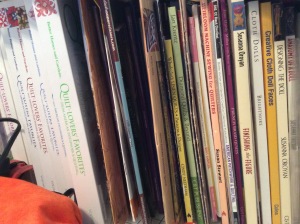 That purpose determines the pattern. There are patterns that are more masculine, more contemporary, more juvenile, etc. Knowing what you are doing for whom will help in the pattern selection.
Other considerations involve the difficulty of the pattern, although quilt top piecing is exactly that – piecing small part together to eventually have a large quilt. You would be surprised at how easy it is to create a quilt that appears to be extremely complicated. Stretch yourself and don't be intimidated. There are many who are willing to encourage and tutor you along the way.
— Choosing fabrics
And the fabric – Oh the fabric!!!
Just pick a theme and you can probably find fabric to match. Or let the fabric talk to you. I let the material that is yelling loudest to be molded into a creation take center stage.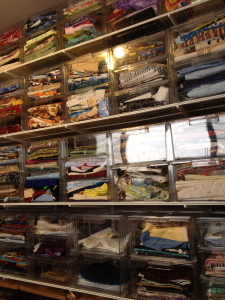 I was recently trying to match a new mother's layette pattern for a baby quilt. Almost as soon as I entered the fabric store I saw material that seemed to have been taken directly from the bedding manufacturer. I then tried it again with another baby quilt I had to make and the match wasn't there, but the colors were. I could take them and embellish a more plain piece with embroidery and applique.
There are so many colors and themes and textures and options!!!
WARNING! – This will definitely result in your becoming a fabric hoarder so be prepared with storage options.
— Learning sewing skills
Learning sewing skills is a no-brainer. You have probably already guessed that you basically need to learn sewing skills. But that is so simple to do. There are videos and personal instruction and friends and family and all sorts of resources available to anyone with an interest. And if, in practicing, things don't work out the first time or two, dog shelters all around the country love donations of bad quilting. The puppies don't mind if the points don't match up.
Practicing is the key. The more you try, the better you become. I spoke once to an international superstar in the quilting world who told me that whenever anyone jealously says to her that it is just because she is so talented, she responds that they would be that talented as well if they put in as much time practicing as she did.
For easy to understand instructions go to http://www.onlinequiltingclasses.com and join the free membership for ideas.