Crewel is traditionally a freestyle embroidery stitched with wool yarn. In fact, the Crewel is an old Welsh word that means wool. Very heavy threads used to be used but today there are lots of options.
Crewel has been around for millennia, but was most popular in the 17th century. James I bought in the Jacobean Age in England and the styles of embroidery designs that proliferated then are still called Jacobean embroideries today.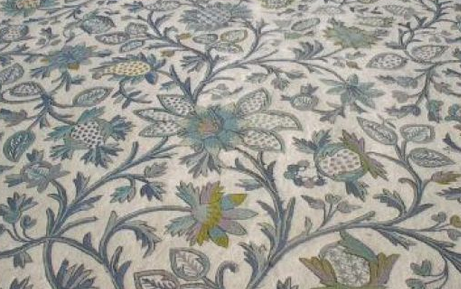 There are a few reasons for the growth in popularity. Steel needles became more readily available. Dyes became more reliable and were brought in greater numbers from the east by the East India Company. And fashion dictated styles that were only accomplished by hand embroidery.
Crewel is not a counted stitch, nor is it's base fabric a grid. It is done by drawing an outline and filling it in with varied stitches. They were originally elaborate designs of stylized flowers, birds, and beasts being worked in wool. But, the 1970s USA reworked crewel into geometrics and more modern motifs.
The many different stitch options offer great latitude for creativity. Whether doing traditional Jacobean designs or contemporary patterns, crewel is fun, and a great way to customize fabric.